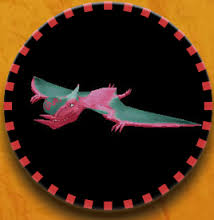 Sungari is a fire element, long range vivosaur that is a weaker, cheaper Dimorph Ace with stronger support effects.

Opponent's AZ

- 40%

- 40%

- 40%

- 40%
Skill                                       Power            Cost                Effect
Sungari Beam                         80                 80                   Enrage 50%
Sungari Flare                          94                130                  Rotate 80%
Immolation                              ---                 200                 Use LP to inflict heavy damage
Sungari Fire                            114              250                 Enrage 50% (team skill)
Parting Blow                                   Ability                           Powers Up when low on LP.
Sungari is a great vivoosaur and is a force to be reckoned with. Being a pterosaur, he has low LP and defence, but high speed. He doesnt have the greatest attack stat, so giving him a Silver Arm Fossil really helps. However, if you have a healing vivosaur like Maia, (or just care more about his defence rather than offence) you can give him a Gold Fossil to make him last until the end with +100 LP, +5 Defence and +5 speed.
I like to pair sungari with a vivosaur that has good support effects like Guan or Tro to help your AZ attacker out even more. However, if Sungari is your only support vivosaur, get a Mid-Range or Close-Range air type attacker like Teffla to handle pesky water types. If your opponent has a Long-Range water type, take it out with your air type by rotating it into the AZ with Sungari Flare, or enrage it with a cheap Sungari Beam and handle it later.
Did I mention that Sungari has both Immolation AND Parting Blow? If you plan to use his fabulous ability, you can do it two ways: with Law of the Jungle, or with Immolation. Using either of these will work and benifit you. However, I would reccomend doing this once Sungari has lost its use and is at 25% health. I should also mention that using a Silver Arm Fossil for this gives greater results. Once Parting Blow is activated, spam your Rotation and Enrage skills on whatever comes into the SZ to devastate your opponent. If you want to cause even more mayhem, Pair Sungari up with certain vivosaurs to activate his Team Skill, Sungari Fire! This move is a more powerful Sungari Beam that attacks all of your opponent's Vivosaurs!
Overall, Sungari is a great Vivosaur to use, so grab your pickax and head to Mt. Krakanak to get one for yourself!